Philip Sabin has just published are book (2012) about war simulations (wargames). Philip Sabin is a Professor of Strategic Studies at the Department of War Studies at King's College London, UK. I highly recommended a quick look at his web page. Included in his book are some example games that he and his students created: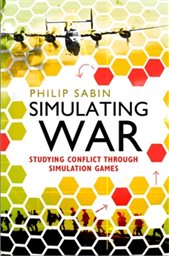 http://www.kcl.ac.uk/sspp/departments/warstudies/people/professors/sabin/simwar.aspx
I already bought this book from Amazon.com.
Bert